Asteroid-1U – the channel bank for Asterisk (32 ports)
Basic features

Up to 32 FXS/FXO ports, up to 8 GSM ports
Connection via Ethernet

Hardware echo canceller
Asterisk/DAHDI support

Point-to-point mode

Modular design

Resources

Description
Asteroid-1U is designed for connection of the voice subscribers (lines) to IP PBX Asterisk/Freeswitch. The device allows connection of up to 32 phone ports FXS/FXO and to 8 GSM ports. The channel bank is designed on the modular basis, thus providing flexibility and efficient configuration of hardware. The 19'' chassis allows mounting of up to 4 modules FXO/FXS or GSM.
Connection to IP PBX is performed via the Ethernet network interface via the TDMoE protocol. Support of TDMoE in IP PBX is realized via the DAHDI program interface. Protocol implemented in the device is optimized for high latencies in the network. So, in the enlarged buffer mode the channel bank allows start of the Asterisk server in virtual environment - under the control of KVM, ESXi, XEN and others. Several devices can be connected to a single server. Quantity of the devices depends on the server performance only.
Besides operation with the server, Asteroid allows operation in the "Point-to-point" mode. A pair of the devices can do forwarding of the ports FXO/FXS via network Ethernet with transparent storing of signaling, without PC.
Line of products
| | |
| --- | --- |
| Designation | Description |
| Asteroid-1UT | Modular chassis with controller, power supply, Ethernet 10/100 port. Allows for installation of 4 port modules. |
| Asteroid-1UT-EC | Modular chassis with controller, power supply, Ethernet 10/100 port and echo canceller module. Allows for installation of 4 port modules. |
| MFXS-8 | Module for connection of internal lines, 8 ports |
| MFXO-8 | Module for connection of external lines, 8 ports |
| MGSM-2 | GSM module, 2 ports |
Accessories
Applications
Call center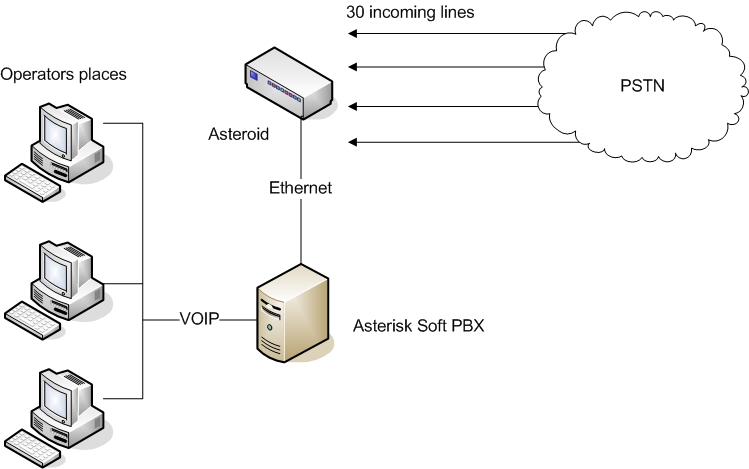 IP PBX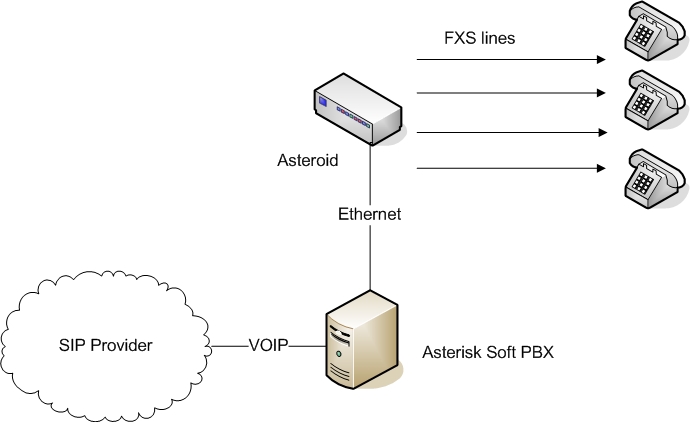 Point-to-point