Features

Form factor – PC card PCI-express x4
4 ports 100/1000 Base-T
Controlled relay bypass
UDP, TCP and IP Checksum offload
UDP and TCP Transmit Segmentation Offload
Jumbo frames 9.5 KB
Watchdog timer 1..255 seconds
Software support in Linux - modified driver for Intel 82580

Resources
Description
The CR-702 is a 4 port PCI-express Ethernet adapter with a built-in bypass relay. The adapter can be used, for example, to connect test equipment or for server redundancy purposes.
On the system side, the adapter is software compatible with the Intel 82580 Quad Port Adapter and uses its driver with patches applied. Pairs of ports 1-2 and 3-4 are connected via bypass. The ports of each pair can be switched to each other or to the 82580 MAC controller.
Hardware structure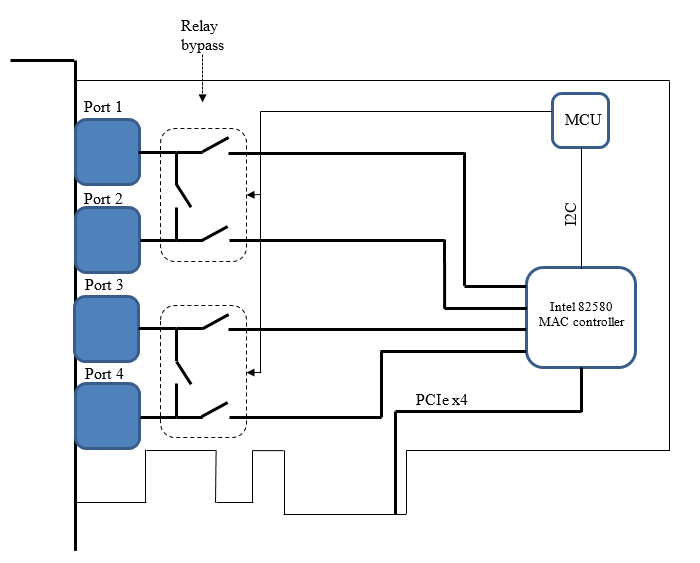 The application example
In this diagram, the Primary server resets the watchdog timer of the CR-702 adapter in a loop. In the same cycle, the administrator can use scripts to configure the check of critical server parameters or connectivity to external resources. In case of abnormal software behavior or these parameters are out of nominal values, the adapter watchdog timer is triggered and switches the port to bypass operation. The Primary server is replaced with a hot Sandby.