Features


8 (4) E1 ports
Hardware echo cancellation
Embedded TDM switch
DMA mode
PCI,PCIe or PMC card form factor
Linux DAHDI/Asterisk driver
Linux configuration utility
Works with any DAHDI-compatible PBX
Asterisk, FreeSwitch, Yate

Resources



Quasar is an 8 (4) ports E1 interface card, developed for use in PCI/PCIe/PMC slots. The card provides simultaneous 256-voice channel processing and channel cross switching without CPU loading. The primary application is to attach the Asterisk software PBX to E1 channels.

Technical data
Connector type
RJ45, 8 contacts
Cable type
symmetrical twisted pair, 120 ohm
Nominal pulse voltage
3 V +- 10%
Data transmission rate
2048 kbit/s +- 50 ppm
Coding
AMI or HDB3
Signal attenuation, no more than
-40 db for port 0, -6 db for port 1
Conformance to standards
ITU-T G.703, G.704, G.706, G.732, G.823
E1 multiframe
CRC4, CAS
Dimensions
130 x 120 x 20 mm
Bus interface

PCI 32 bits, 33 Mhz, PCI master capable

or

PCIe 1x

Software support

Configuration utility for Linux
DAHDI driver for Asterisk

Order codes

| | |
| --- | --- |
| Quasar-8PMC | 8 E1 ports, PMC |
| Quasar-4PMC | 4 E1 ports, PMC |
| Quasar-8PCI | 8 E1 ports, PCI |
| Quasar-4PCI | 4 E1 ports, PCI |
| Quasar-8PCX | 8 E1 ports, PCIe |
| Quasar-4PCX | 4 E1 ports, PCIe |
| Quasar-8PCX-EC | 8 E1 ports, PCIe, echo canceller |
| Quasar-4PCX-EC | 4 E1 ports, PCIe, echo canceller |
| Quasar-8PCI-EC | 8 E1 ports, PCI, echo canceller |
| Quasar-4PCI-EC | 4 E1 ports, PCI, echo canceller |


Applications
Office PBX with exterior E1 line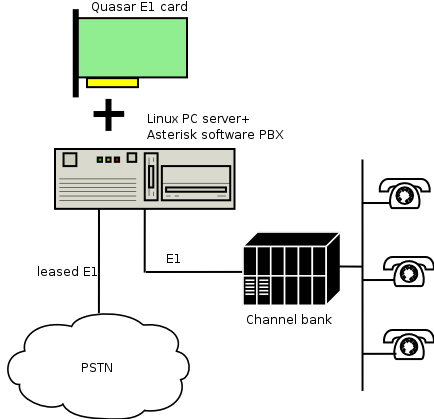 Corporative VOIP gateway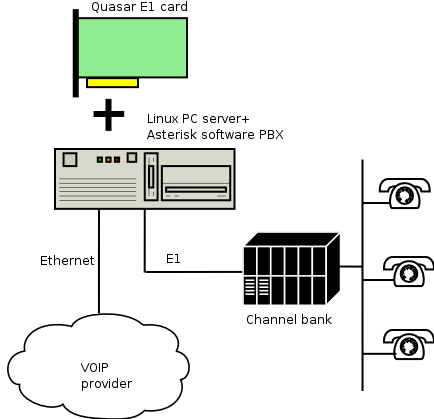 E1 access server